Written on June 8, 2009 by mimecine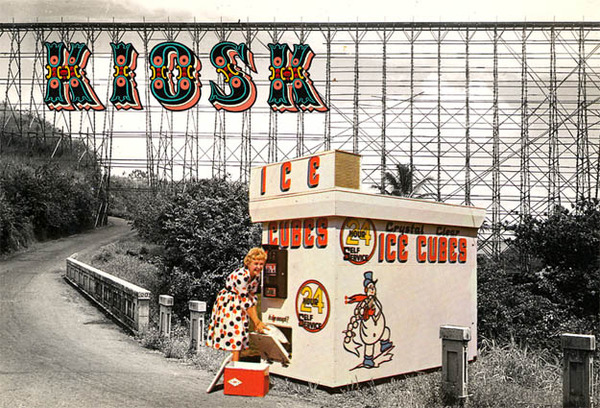 We are proud to show this longtime idol of ours. Ken Brown, the creator of all those postcards that so inspired us to this day.  Seldom did we feel as dumbfounded as when we realized all these pictures we had littered our walls with (oh, and I had a few wicked rubber stamps too) came from one and the same source – Ken Brown's imagination. A very influential imagination indeed…
Postcards from Ken Brown, a retrospective of sorts… after reading Ken's answers to our questions I think you will understand exactly why we invited him to KIOSK.
Opening Party June 11 from 7 -9 pm, the show will be on view from June 11 – June 20th. Postcards for looking, postcards for buying.
Background:
"My first experience as a practicing artist was as a film maker. During the late 60's I created dozens of short experimental films that became part of a New England based light show which for over 2 and a half years played with everyone from Jimi Hendrix to the Velvet Underground, the Who etc."
Reason:
"I've always loved postcards. They are the original populist medium, affordable, accessible and abundant and, as an artist interested in skirting the gallery system, they seemed like an ideal way to get work out to a larger audience. I admit that I had no idea what I was doing and had no business plan, but in 1975, I took what little savings I had and invested in a print run of 2000 each of 12 different photographic postcards."
Development:
"In 1985, in another feet first production, we moved to NYC. I continue to juggle design work as an active art/entrepreneurial enterprise while also producing regular spots for MTV and Sesame St. Also in 1985, Harper and Row (now Harper Collins) publish a collection of my cartoons- Notes from the Nervous Breakdown Lane"
Influences:
I have a long standing love of American pop culture and it remains a constant theme throughout my work.
How many cards:
Over 34 years and close to 700 different designs, a rough guess would be about 2 to 3 million cards littering the landscape.
Summation:
"I love living in New York and thrive on the culture and general visual vibrancy of the place.   uh oh, … starting to ramble"