Written on March 26, 2009 by mimecine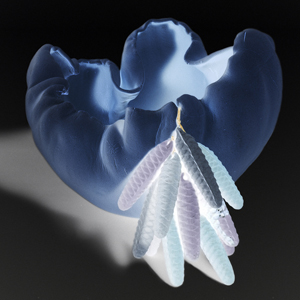 You are walking through the forest, imagine that as you normally live in a city, and suddenly you are hit on the head by a large object. It hurts. You want to start crying but you realize that's the way it goes in the wild, no pain no gain, it's survival of the fittest. The weird thing is you look down and realize what hit you on the head is not from nature, it is not stone or any type of flora. What hit you looks like a tree growth but it's made of ceramic. Where are you? Is this forest inhabited by little creatures making pottery all day long? We are happy to host Sara Isaksson From, the Swedish ceramicist from the forest called Scandinavia to KIOSK March 26 – April 11th. On Saturday the 28th Sara will be at us from 2 – 6pm to have a chat with you. We hope you will brave the Soho crowds and stop by for a beer or just to look at the work and say HI.
This show was possible with the help of

– Thanks!