Written on December 14, 2007 by mimecine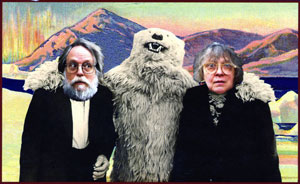 The resource of resources – Where Inspiration goes to get inspired. That's Dullsville. These fabulous folks had a shop on 13th Street on Manhattan just off of 3rd Avenue which closed down when they got sick of the city, but they return for the holidays! This year, from the 8th (we haven't had time to go ourselves yet) until the 31st they reside one flight up — just like us — above their former space, they will await you between noon to 6pm and sell you the most fabulous things: (From their own flyer) Vintage ornaments, lighting, curios, artwork and unusual gifts. And that is exactly what they have. If we had to write a New York cityguide and the editor only allowed us one paragraph, we would recommend Dullsville. Heck, if we only got a seven-letter word all-in-all it would be "Dullsvi".
You. Must. Go. Yes. It. Is. That. Good.
If you ever saw our red-light-district-like parrot-lamp in the corner of our store, now you know where we got it. Are you having a "Julgran" (X-Mas tree for you non-swedish)? It is at Dullsville you find your ornaments.
But you may only go if you behave. These are the nicest of nice.
Dullsville:
Upstairs at 143 E 13th St. Ny Ny

Phones: 917 701-1660 and 814 259-3550 (remeber! bevhave)