Written on August 15, 2011 by Ming
Saturday morning we were all ready to start marbling. Then we realized: you must wait 12-24 hours for the size to set. Please keep this in mind when you decide to start your own marbling adventures and either do it the night before or plan a really excellent field trip to take place in the hours between. We did the latter.
Marbling Materials
* a 18 x 22 x 4 inch container
* a bucket
* a chopstick
* small containers for preparing acrylics
* Methylcel
* Alum
* Acrylic paints
* water
* white vinegar
* ammonia
1. Prepare the size
Whisk 3 tablespoons of Methylcel with one gallon of water. Then add 1 teaspoon ammonia. The mixture thicken and if not add another teaspoon of ammonia. Cover the mixture with a newspaper and let sit for 10 min. Then remove it and stir in the same amount of white vinegar as you did ammonia. Pour the size into a tray and let sit for 12-24 hours.
**************We started our size at noon so we had 12 hours to kill and decided to take a  trip to Midwood, Brooklyn to visit the famed Spumoni Gardens******************
Spumoni Gardens has been serving quality italian dessert for over 70 years. It lies just past avenue U deep within Brooklyn but the journey is well worth it. Spumoni, a cross between italian ice and gelato, typically comes as a combination of 3 flavors: vanilla, chocolate and pistachio. We were really inspired by the colors of the icies and dessert platter and decided to dedicate our marbling endeavors to their ecstatic hues.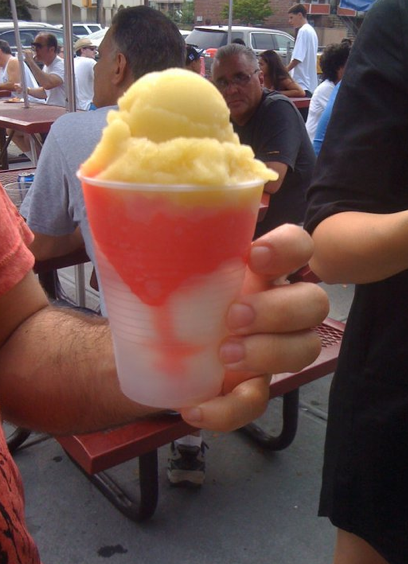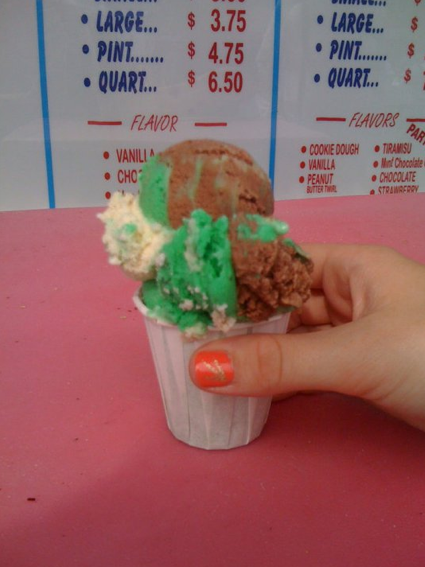 *************at midnight we began marbling****************
2. prepare your fabric
Mix one quart of hot water per 3 tablespoons of alum and allow to cool. Add the fabric you plan to use and allow to soak for up to 20 minutes. Remove and wash out the solution. Dry in dryer. While this is going, you can prepare your pigments.
3. prepare the pigments
Mix acrylic paints with water until they are a light cream consistency. When dropped into the size they should spread easily but not become too translucent.
4.marblize!
Drop paints in as you like and then use a chopstick to swirl them around as desired. Take a piece of fabric and lower it from the middle to the sides into the solution. Leave it in for a minute. Then remove it over the edge and place into a bucket of water. Wring out gently and allow to dry.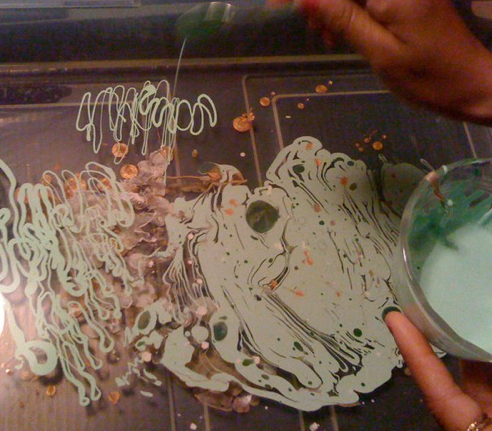 Spumoni: pistachio, hazelnut, vanilla!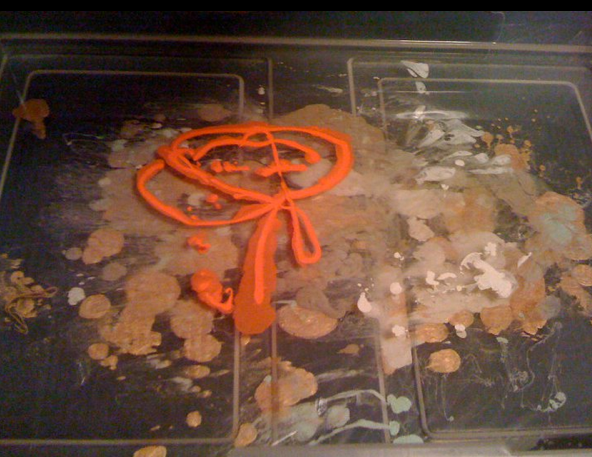 Italian ice: cherry, chocolate, coconut!

See more detailed instructions and tips HERE