Written on August 12, 2011 by Alisa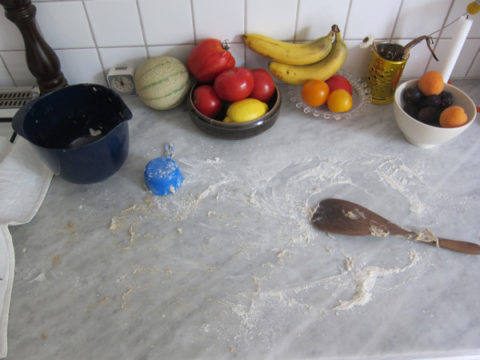 Bread in Stockholm has all gone to sourdough, something Marco is not a fan of, so I tried to make our favorite, called Gotlands Bröd. It turned out pretty good although I would have liked it to be darker! Here is the recipe, it makes about 4 small breads, good to share with friends!
First day: Boil 6 cups water, 1 tbsp white vinegar and 1 tbsp salt. Pour this mix over 8.5 cups of rye flour, knead / blend together and place in the fridge under plastic wrap overnight.
Second day: Dissolve 100 grams of fresh yeast in a bit of lukewarm water. Pour over dough. Add 3 tbsp ground bitter orange peel and 1 /3 cup of molasses to the dough, stir together. In increments add about 6 cups of white flour – eventually add more if the dough does not stiffen. Knead quite a bit until the dough is stiff and not wet.
Make rounds of dough – little loafs – and place on cookie sheets to rise, remember to space them apart so they do not grow into each other., let rise for 30 – 50 minutes, basically until you see a noticeable difference. Turn on the oven to preheat to 350 degrees.  A good place to let the loafs rise is on the cookie sheet, covered with a dishtowel on top of an empty soup pot placed on the stove which will be in the process of heating up.
Bake in the middle of the oven for 50 minutes at 350 degrees. Brush with cold water immediately after removing from the oven to get a hard crust.  Hope you like it. I'll be searching for a darker bread recipe, if you have one you think I should try please send it in!