Written on April 8, 2010 by mimecine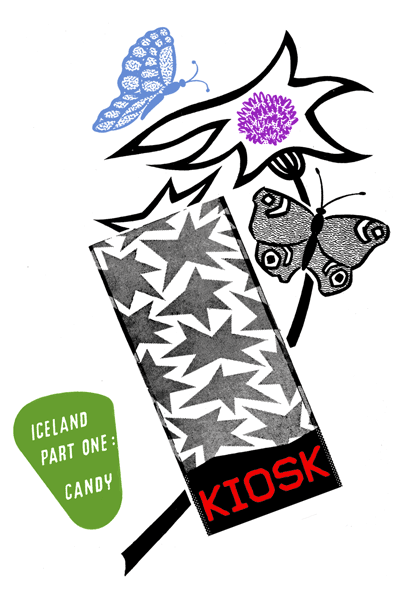 Iceland needs some help right now so we went. We went to Iceland and possibly we should have never come back. It's all about volcanos. A current eruption in the south of the country, a paper mache volcano made here at KIOSK for the show, volcano movies being screened and a candy called "Hraun" or "Lava". All good things come in stages and for ICELAND we take it in two parts. Part one being Icelandic Candy, a special breed of it's own that we have worshiped for years, consisting of licorice, chocolate and caramel alone and in various combination's, most of which you never thought could have existed. ICELAND is a fantastic place, with fantastic people with fantastic ideas. Really, their candy sums it up. We decided to chose candy as it's fun and easy and right now I think we all need a bit of easy fun.
Volcanos,eruptions, eitt sett, explosions, glaciers, thristur, hraun, aedi, sambo…
Online any day now. Welcome for an early beer at KIOSK on Monday April 12th from 6 – 8 pm.
Card compliments of Jason Rosenberg who joined KIOSK on the trip.